Date for Race #4: May 6, 2017
Gun Time: 42:29
Chip Time: 42:21
Placing Overall: 31st out of 800
Placing in Age Group: 6th out of 80 (M40-49)
Date for Race #5: June 27, 2017
Gun Time: 44:53
Chip Time: 44:51
Placing Overall: 47th out of 298
Placing in Age Group: 8th out of 19 (M40-44)
Theme Song: "The Bug", Dire Straits
Two for the price of one with this post. I decided to do this because A) these races definitely provided an interesting contrast to one another, B) they were both 10K runs, and C) I'm a lazy, lazy man in many ways. From a performance aspect, they were definitely at opposite ends of the spectrum. As Mark Knopfler helpfully points out in the above theme song, "sometimes you're the windshield/sometimes you're the bug".
There was legitimate concern that the Mississauga race would be flooded out. We had rain of near biblical proportions in Southern Ontario this spring, and Lake Ontario is currently at the highest level it's been in recent memory. The weekend of the race, there was a plan to evacuate Toronto Island (which, fortunately, didn't need to be executed) and everybody living there was sandbagging like mad to hold off the deluge. A significant part of the course was to be run along the lakefront trail system, but it seemed the trails were far enough away from the water that flooding wasn't a concern. So, on a freezing cold and damp early May day, I made my way down to the Mississauga neighborhood of Port Credit to hit the race expo. There was the usual array of local race booths and gear, and lots of free stuff being given away. I stocked up on pasta at the Catelli booth, but somehow missed Canadian Olympic Marathoner Lanni Marchant who was supposed to be there. Oh well.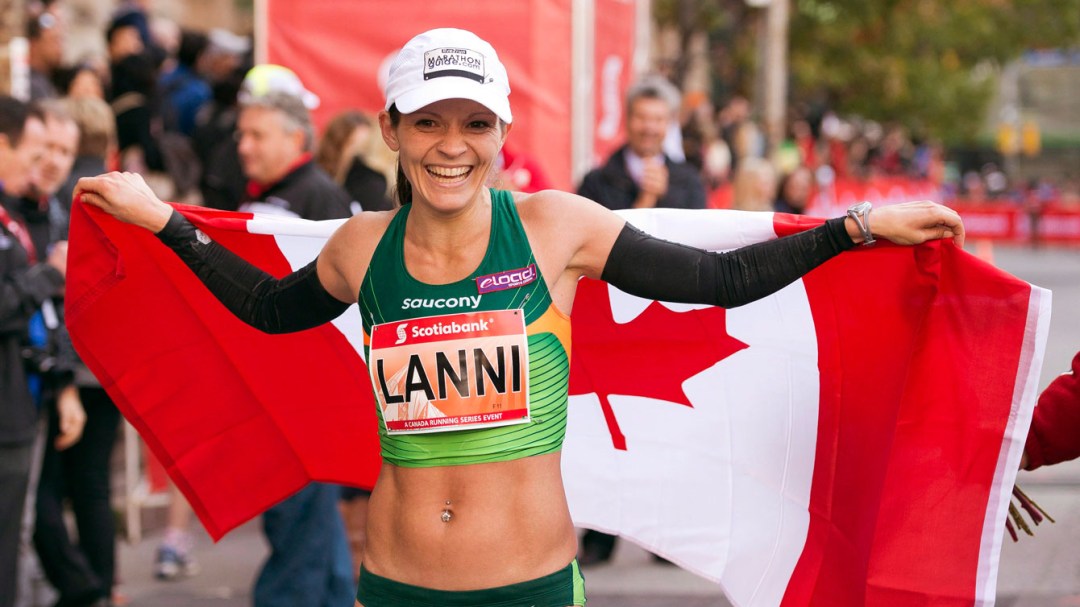 A major flaw in the organization of this race – kit pickup for the 10K had to be done by about 2 and a half hours before the race actually started. This arrangement sucks for out-of-towners, because the question of what the hell to do until the race starts becomes rather prominent. Mississauga is the giant belt of suburbs between Cambridge, where I live (Cambridge is rapidly becoming famous as the filming locale for "The Handmaid's Tale", but maybe more on that later) and downtown Toronto. Oscar Peterson is from there (if you're into jazz), and so is, um, Billy Talent (if you're into pop/punk hybrids). It is famous for having a giant mall, the Marilyn Monroe towers, and, well, not much else.
So, I hung around in a parking lot playing with my phone until I felt like it was not insanely early to be heading to the start line. I hadn't been doing a huge amount of work prior to this one, but still felt good, and had run a sub-20 5K a few weeks prior. The rain at least stopped by start time, and I hurtled off into the course with designs on at least getting within sniffing distance of my PR.
The big problem in this one was the wind, which was blowing at about 25-30 mph out of the northeast, meaning it was in our faces for most of the run. There was a 10K relay of school kids being run at the same time, so at 2.5k intervals I would have a bunch of youngsters come flying past me, only to catch them and pass them a kilometre or so later as they gasped for air.
I managed to get to the line in a very respectable 42:21 given the conditions, and since the top 3 masters were all 40-49, I snuck into 3rd place and scored a couple of gift certificates (Panera Bread!). I was quite happy with this race and in perfect conditions I'm sure I would have been under 42:00 easily.
The interval until the next race was, however, not kind. I got sick with a bad chest cold, then had a nasty bout of strep throat and was on penicillin for awhile. Then, my first run back I pulled the same groin I injured a couple of years ago in the lead up to the Cleveland Marathon, and was out of commission for a couple more weeks. Coming into the Peach Bud 10K, which was held in Grimsby on the west side of Lake Ontario, I felt physically pretty good, but I was interested to see how much cardio I could possibly have retained having basically not run for a month. The answer, sadly, was not much.
I was hoping to at least do a sub-44, but my problems in the Peach Bud were compounded by the fact that I made a very stupid mistake in pacing. I started feeling strangely winded just before the 2K mark, then noticed the clock. It said 7:49. Seven-goddamn-forty-nine. In other words, I was on pace for a sub 39-minute 10K. I'm fucked, I thought. I've always held the belief to be true that for every minute you go too fast in the first half of a race, you lose 2 minutes in the second, and that's exactly what happened. At the 5K mark I was at 20:40 and I was completely gassed, with people passing me left and right. I managed to limp in just under 45:00, but was not happy about it. That's JV shit by my standards. At least the weather was nice.
So, back to building up the training. I didn't include any pictures of the Peach Bud because I'm still kinda pissed about it. Good motivation I guess. At least I'm physically good and looking forward to some hot summer runnin'. Got plans to do a 25K trail race and probably another half marathon in the fall, so time to get moving.
Sometimes you're the windshield, sometimes you're the bug. I'm damn well fixing to be the windshield next time.